CCU
The Current Control Unit (CCU) with outside ancillaries monitors and controls the installation's battery pack. The batteries' capacity will differ from one cell to another, these deviances will increase with number of charging/discharging cycles and in due course lead to trouble. The CCC unit contains necessary parts to protect the system and accessory to improve and to make readings possible.
Temperature Sensor
Digital Temperature Sensors are monitoring the battery pack's temperature, the BMS will act when a certain temperature has been reached and react as over-temperature protection. Temperature with battery current and cell's voltage are used to compute the determined State of Charge (SOC) State of health (SOH) is determined by comparing cell's current parameter with the parameters of the new battery pack
BMS Current Measurement
A shunt resistor with a 4 leads Kelvin connection and a shielded cable are used to measure the current and to transfer the infor- mation to the BMS. The battery pack current is measured every second with high precision, ADC is used to filter out current spikes. The first current measurement is timed at the beginning of the cell measurement procedure for a proper internal DC resistance calculation.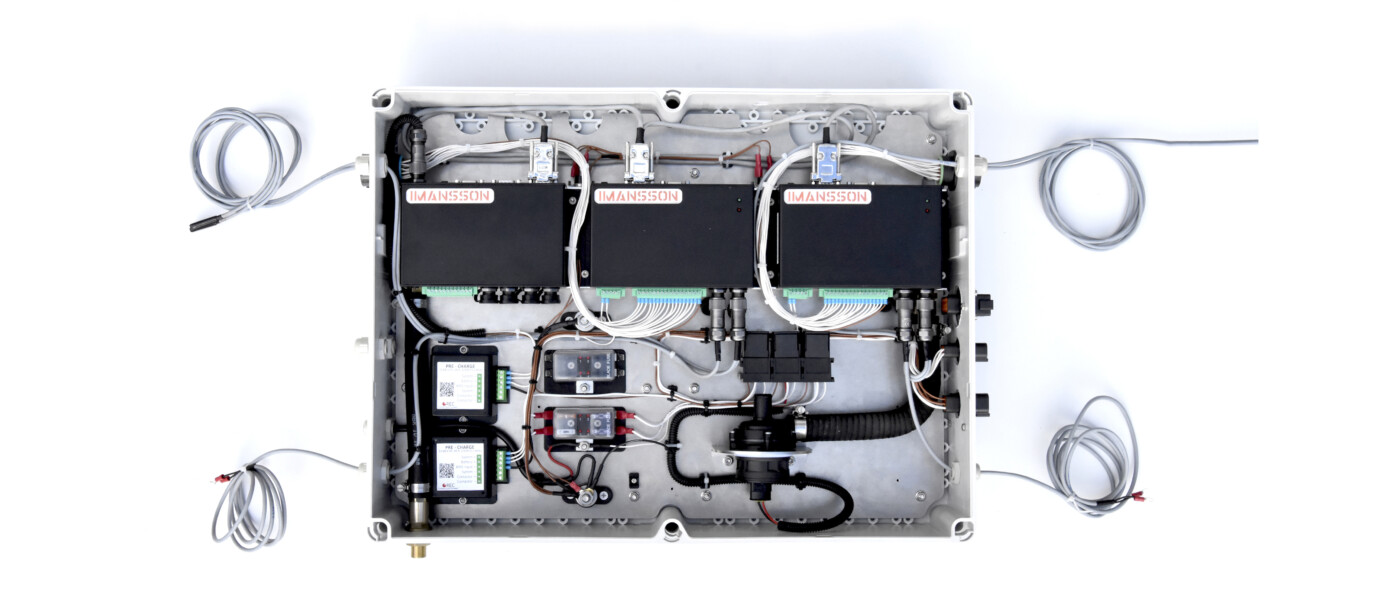 SCOPE OF SUPPLY
Battery Management System (BMS)
Pre-Charge unit(s)
Temperature Sensors
Contactor Relay(s)
Current Shunt(s)
Relay Block
Thermal Switch
Circulation Pump
Battery Management Pack
The BMS equalizes battery cell's voltages by diverting some of the charging current from higher voltage cells; named passive balancing.
The BMS unit's temperature is measured to protect the circuit from over- heating due to passive balancing.
Liquid cooling is used to keep the temperature down, coolant is circulating through the back-plate and heat exchanger. Thermal switches control the pump's engagement to reduce current consumption.